Back to all posts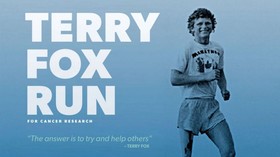 Wednesday September 26 during period 3, we will be hosting a Terry Fox Run. We are asking for your help to raise money for the Terry Fox Foundation. People all over the world have raised over 750 million dollars for cancer research through participation in this yearly event. Terry continues to be an inspirational Canadian icon! Classes will compete to fund raise for this worthy cause all week, and the classes raising the most money will start our run! 
Our school leadership class is providing a free lunch and the end of the run, where we will be having our annual Welcome Back Bash in the courtyard. Homeroom teachers will give each student a ticket that they can redeem for a hot-dog, pop and a small bag of chips. They will also be organizing fun activities and there will be music in the courtyard.
Cross your fingers for warm weather this year!