Back to all posts
Posted on
Talent Show & Fine Arts Festival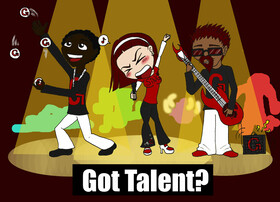 We are thrilled to present the ELJHS Talent show and Fine Arts Festival on MARCH 29 (please note the change in the date from the 7th).
Students are encouraged to submit an entry in one of the following categories:
PERFORMANCE ART: (performed)

Song, Dance, Comedy, Drama Presentation, Poetry Reading or Monologue, Band/music performance

VISUAL ART:  (displayed)

Art project,  Sculpture, Painting, Drawing, Ceiling tile, Fabric art, Woodwork, Metalwork

ART / MEDIA:  (displayed or played during the show)

Short Film, Media Presentation, Animation, Graphic Art, Stop motion

LITERARY ARTS: (displayed and posted)

Short story, Poetry, Essay, Song Writing
If you have something creative that does not fit into the above categories, see Mrs. Gratton or Mrs. Smith.
Anyone interested in submitting an entry, can pick up a form at the office, print one here, or enter digitally through bit.ly://LJTalent2019.
Entries are due February 1.  All entries will go before a selection panel and not all who enter will be accepted.   
Rules and Expectations:
May be done individually or in a group
Practices will be facilitated during lunch in the Drama Room
Bring or email your own music /video to Mrs. Gratton
All submissions will be auditioned and considered for the event although entry does not guarantee acceptance into the show.