Back to all posts
Posted on
Staggered Start to the 2020-2021 School Year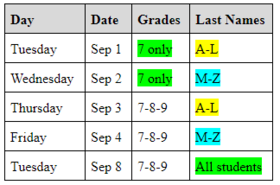 We hope that you are all enjoying a healthy and happy summer break. School and division staff have been working through the summer to plan for the return of students to our school. This plan will be shared with students and parents during the week of August 24-28.  
WCPS schools will all have a staggered start to the school year to allow students, staff, and families to learn and practice new routines and protocols. Core teachers will contact students and parents via email on Friday, August 28 to share class cohort information. They will also provide details about our virtual Google Meet the Teacher event on August 31 where teachers will welcome students and parents into their classrooms, provide directions to their classroom for the first day of school, and answer questions about the new protocols (eg. daily Screening Questionnaire, wearing masks, hand sanitizing, classroom procedures). 
Classes during the staggered start will take place as normal, but with reduced numbers of students (see schedule). Classes will begin at 8:40 and end at 3:20. Students must wear a mask to enter school and follow the protocols that will be described in the school reentry plan. 
Schedule:
| | | | |
| --- | --- | --- | --- |
| Day | Date | Grades | Last Names |
| Tuesday | Sep 1 | 7 only | A-L |
| Wednesday | Sep 2 | 7 only | M-Z |
| Thursday | Sep 3 | 7-8-9 | A-L |
| Friday | Sep 4 | 7-8-9 | M-Z |
| Tuesday | Sep 8 | 7-8-9 | All students |
I hope that this information allows your family to effectively plan for the first week of school. More details about specific schedules, routines, and protocols will be shared when we release our school reentry plan next week. We are very excited to connect and reconnect with all of our new and returning students. Stay healthy for your final weeks of summer break.