Back to all posts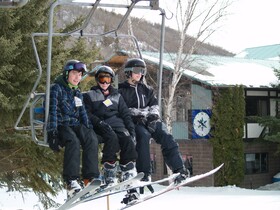 As a part of our Physical Education program, École Lacombe Junior High School is offering an opportunity for every student to experience downhill skiing or snowboarding.  Physical outdoor activity is essential for healthy growth and development. By exposing students to a variety of activities, we hope to give them the confidence necessary to pursue a physically active lifestyle. This is a fantastic opportunity for new skiers/snowboarders as lessons are included in the lift ticket.  Snow tubing is an alternative for those who cannot or choose not to ski/snowboard.  
All students must return this form even if they cannot attend.
Our students will travel to Canyon Ski Hill, just outside of Red Deer, to participate in downhill skiing or snowboarding.  Students will purchase lift tickets and rental equipment in advance. If a student has their own lift ticket or equipment, they do not need to purchase these items. Ski equipment brought from home will be driven to the hill in trucks as they are not permitted on the bus. Helmets are mandatory for all on the hill. 
DETAILS:
Date: Wednesday, Feb. 5th
Depart: 9:00 am
Return: 3:15 pm
Bring: Bagged lunch or money to purchase lunch, winter wear including ski pants/jacket, mittens, hats and winter boots.  
Equipment: if you are bringing your own equipment, drop it off at the school front doors (at truck) any time after 8 am
FEES (preferred payment using Parent Portal): 
2019-2020 Pricing
Package A-$55-Lift Pass,Ski Rental,Lesson,Bus fee
Package B-$55-Lift Pass,Snowboard Rental,Lesson,Bus fee
Package C- $32-Lift Pass,lesson,bus fee (Has Own Equipment)
Package D-$20-Lesson Only, (Has Own Equipment and Season Pass),bus fee
Package E-5$- Bus fee only- has own equipment, no lesson
Package F-$25-Snow Tubing-incl. helmet, bus fee
Snow tubing is an activity where students go down a controlled run on an inner-tube. If you choose this activity, you must wear winter boots!
Package G-$10- Helmet fee and bus fee Only
(*All prices above include GST)
To see snow tubing, check Canyon Website: www.canyonski.ca

This is a whole-school trip, with students and teachers participating. Weather permitting, the ski trip will take place on Wednesday, February 5th, 2020.  Our school will be the only school on the hill for that day.  École Lacombe Junior High staff will supervise and help students with any questions or concerns that they may have.
Before signing the permission form, please read the following information with your child. 
It is important to note that there is an element of risk in every athletic activity.  The safety and well-being of students is our primary concern and attempts are made to minimize the foreseeable risks inherent in any physical activity.  However, due to the very nature of some activities, the risk of injury remains. Students must have signed permission forms to attend this activity. We are asking parents to ensure that their children are dressed properly and that all equipment they are bringing from home be in good working order.  Should you need any more information or clarification, please contact the school at (403) 782-3812.
Alpine Responsibility Code.  Please make your child aware there are elements of risk that common sense & awareness can help reduce.
Ski under control and in such a manner so you can stop or avoid other people or objects.
When skiing downhill or overtaking another skier you must avoid the persons below and beside you.
You must not stop where you obstruct a trail or are not visible from above.
When entering a rail or starting downhill, look uphill and yield to others.
If you are involved in or witness a collision you must remain at the scene and identify yourself to the Ski Patrol.
You must use proper devices to prevent runaway equipment.
You must not use lifts or terrain if your ability is impaired through use of alcohol or drugs.
You must keep off closed trails and observe and obey all signs and warnings.
          Some further safety policies to be adhered to at Canyon.
Do not hit your skis together while riding on the chairlift.  They can come off and hit people below.
Do not attempt to stop runaway equipment.  Instead, shout the warning "RUNAWAY SKI OR BOARD" to people below.
Lacombe Junior High School students will take ski school lessons to learn the rules and techniques of the sport.  No matter what your level of skiing ability, lessons can make skiing more enjoyable.
Avoid cutting through ski school classes and race courses, unless you are a participant.
Dress appropriately for the weather conditions.  You will be more comfortable if you dress in layered, non-restrictive clothing which can be altered as temperatures change.
On sub-zero or windy days, shield your face with a high collar, neck warmer or face mask.  Do not wear long scarves. A good pair of mittens with liners is usually warmer than gloves.
Recognize your limitations.  If you are tired or cold, stop for a rest.  Tired individuals and those who go beyond the limits of their ability are more prone to injury.
Use only the terrain where your instructor has taken you.  Practice what your instructor has taught you on the runs he has taken you on.
Skier/Boarder classification categories.  All students should be classified according to skiing or boarding ability.  These are some guidelines that you, as the parents of those participating in the school's program should use when filling in the ability level section of this form.
Non-skier/Non-Boarder:   The student has never skied/boarded before or does not meet beginner classification below.
Beginner: The student has skied or boarded a few times a year and has experienced and maintained control on a number of novice hills (beginner areas) of varying difficulty.  He/she can show control while turning left and right and stopping.
Intermediate: The student has skied or boarded on many occasions and has experienced a variety of hills and different ski areas (intermediate areas of the ski areas).  He/she can stop and turn under control using recognized formal techniques.
Advanced: The skier/boarder is an experienced and competent skier or boarder.  He/she has received formal instruction, knows and understands the Skier's Responsibility Code and can demonstrate ability at an advanced level.