Back to all posts
Posted on
The ELJHS House System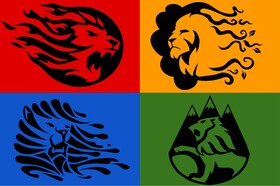 For the 2019-2020 school year, students at ELJHS will benefit from three different school environments which will help them to develop skills and transition from adolescents to young adults. 
The first, and most familiar grouping, will be their Core Class. Each student is placed in a core class of students in the same grade (eg. 7A, 8B, 9C) who learn Language Arts, Math, Social Studies, Science, Health, and Physical Education together. These students will travel the halls together and support each other as they engage in academic learning. Students will change their core class at the start of each school year.
The second grouping is their junior high Family, which meets every morning at the start of the day. Each family is comprised of one teacher and students from grades seven, eight, and nine. Families provide positive peer support during this time in your child's life when they place greater emphasis on the opinions of peers.  The family teacher serves as an academic advisor and counsellor who will guide your child throughout their three junior high years. They will help your child make good decisions and choose appropriate tutorials each morning. The family teacher will be your primary contact person while your child is in junior high.
The final grouping is their school House. Our school has four wings and the families within each wing comprise our four houses. The names of our houses are: Ignis (Fire), Aqua (Water), Ventus (Wind), and Terra (Earth). Houses engage in friendly competition throughout the year and participate in various fun activities and service projects. They provide our students with a variety of opportunities to lead and serve their school and community. Houses are a great opportunity to make new friends while developing our school values of leadership, service, and kindness.
We hope that families and houses provide opportunities for your child to learn how to make new friends, work as part of a team, serve and lead in their community, and have fun. In fact, families and houses are great environments for students to develop a range of critical life skills while they are in junior high,  including:
Making good friend choices.
Working in teams and negotiating conflict.
Managing relationships with peers and authority figures (parents and teachers).
Organizing their lives to effectively complete tasks independently.
Monitoring and taking responsibility for grades.
Learning to self-advocate and ask for help.
Self-regulating emotions.
Cultivating passions and recognizing limitations.
Making responsible, safe, and ethical choices.
Identifying a path for their life and then charting their course.
Our daily schedule is as follows:
School Opens
8:15
 
Advisory
8:40
Family
Tutorial
8:50

Family Time (Mondays),

Tutorials (Tue, Wed, Thu),

House Time/Wellness Workshops (Fridays)

Period 1
9:20
Core class
Period 2
10:10
Core class
Period 3
11:00
Core class
LUNCH
11:45
 
Reading
12:30
Family
Period 4
12:55
Core class/Option 7
Period 5
1:45
Core class/Option 8
Period 6
2:35
Core class/Option 9