Back to all posts
Posted on
Wolf Creek China Trip (gr 9-12)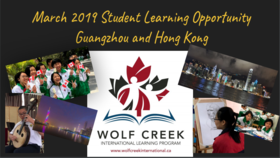 MARCH 2019 WOLF CREEK—GUANGZOU, CHINA TRIP
Students enrolled in Grade 9-12 from across any school in Wolf Creek Public Schools are welcome to submit an application for joining the student trip in March 2019 to Guangzhou, China. Details are available by clicking here. 
Application deadline is October 19, 2018.
Approved applications from currently enrolled Grade 9-12 students attending this trip will include transportation from Lacombe to Calgary International Airport. Flights will depart for Hong Kong with a planned layover to rest and do initial activities in Hong Kong before spending their time in Guangzhou, China for almost 2 weeks. Students would leave for Calgary on Thursday, March 7 and stay overnight in order to be at the airport for the early departure.
3 days in Hong Kong in Hotel Stay (Examples of possible activities)
-Touring Hong Kong
-Hong Kong Disneyland
-Acclimatizing to new time zones and managing jet lag
10 Days In Guangzhou in Homestay with Families (Examples of possible activities)
-Spending time in Guangzhou schools (Student will be in more than one school
during their time there.)
-Touring the ancient city
-Canton tower
-Chimelong Safari Park
-Many historical sites
-Formal ceremony
-Homestay Days - exploring culture with their homestay families
3 days of flights and travel - (lots of time changes to deal with as well)
There will be some internal travel days as well between HK to Guangzhou
Upon return to Canada on March 22, students would return with provided transportation to Lacombe. Due to the March 2019 school calendar including Teacher's Convention days and an earlier Spring Break, participating students would only miss three days of school classes.
ABOUT GUANGZHOU
Guangzhou (Canton), a prosperous metropolis full of vigor, is the capital city of Guangdong Province located along the south coastline of China. Being an excellent port on the Pearl River navigable to the South economic, scientific, educational and cultural center in Guangdong area. Guangzhou is the third largest city in China and is a vibrant growing metropolis.
For more information, click here